I first heard "Carol of the Mice" as I was writing Father Churchmouse's Christmas Eve service in chapter seven of MIDDLEJOY AND THE MINISTER'S CAT. Evidently, it is a traditional mouse hymn, sung in four part harmony by all mice every year at Christmas time. Who knew?
The mice have been asking me to let them sing it for our readers for over a year.
I began wondering if they knew any other Christmas songs.
Sure enough, some of our old favorite songs have been adapted with lyrics that only Church Mice could sing.
I hurried to scribble down these new words, and gathered the mice together to record them.
The result is "Mrs. Middlejoy and the Church Mice Sing Christmas," an album currently in production.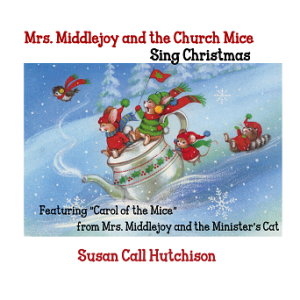 You can find links to several of the songs on this website.
Amazingly, the Church Mice also began dictating Halloween Songs to me, and I was able to teach them a few of the songs from Year-Round Read-Aloud, Read-Along Rhymes: Celebrating Holidays and Seasons
. So keep an eye (and ear) out for new songs.
And yes, there are more Mrs. Middlejoy books being written. You can count on the Church Mice to almost understand the world of the humans as they worship together and find new adventures.
oOo
Thanks again to Kath Unsworth for illustrating the cover of MRS. MIDDLEJOY AND THE MINISTER'S CAT. Kath is a children's author and illustrator from Australia. You can see more of her wonderful work at her blog, Miniscule Moments of Inspiration.
Thanks also to Jennifer at The LDS Organist for helping me with some technical questions about MRS. MIDDLEJOY AND THE JOYFUL NOISE.
And a thanks so much to Marlendy at Marge8's Blog for introducing me to the American Greetings Christmas Card used as the CD cover for "Mrs. Middlejoy and the Church Mice Sing Christmas."
oOo
Susan Call Hutchison is a participant in the Amazon Services LLC Associates Program, an affiliate advertising program designed to provide a means for sites to earn advertising fees by advertising and linking to Amazon.com.